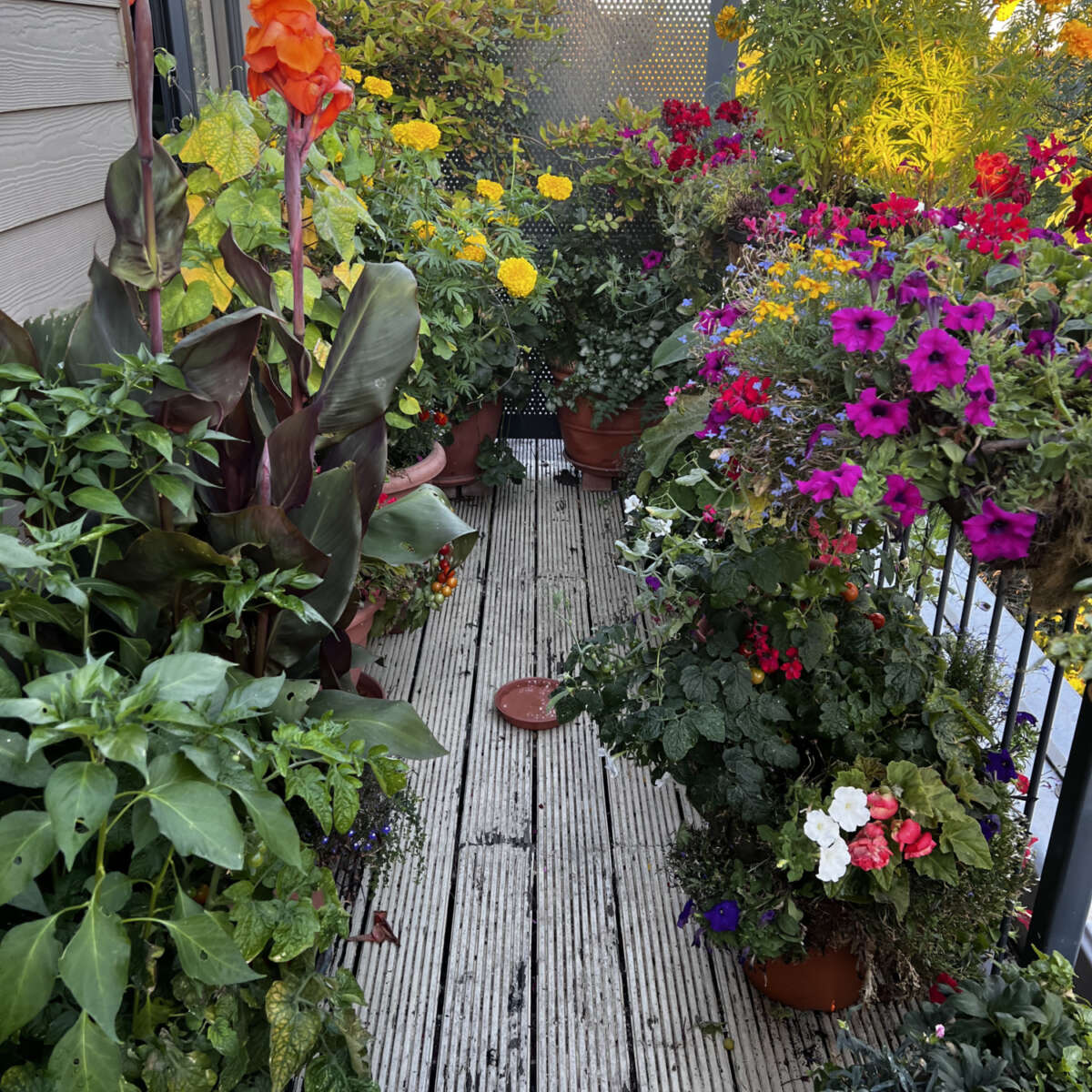 Balcony growing
An urban outdoor space is no barrier to growing success. Advice and resources, from getting started to establishing a productive growing space on your balcony!
The sky really is the limit when it comes to growing on a high-rise balcony garden. Here's our advice for turning a lifeless little space into an organic and productive paradise.
Balcony garden basics
Before you start filling your apartment's outdoor space with containers, it's worth finding out the weight-bearing capacity of your balcony. Terracotta pots and wet compost can be heavier than you think.
Make a note of where the sun and shadows fall. You'll want to choose plants tolerant of shade for a north-facing balcony, but herbs and succulents will soak up the sunny side.
Balconies often have rain shadows from overhanging roofs or neighbouring buildings so you might need to consider plants for dry shade too. Use mirrors to refract the sunlight, and climbers to provide shade and windbreaks.
Maximise space
Your balcony garden is likely to be entirely containerised, so maximise the space by choosing the biggest pots you're able to use. Smaller ones will dry out more easily.
Get creative with planting: consider dwarf varieties that have compact habits and mix edibles with bedding plants. Underplanting larger species with herbs such as thyme, alpines, or salads helps retain moisture, attract beneficial insects, and prevent weeds.
Think of your balcony garden as a cube and consider growing up as well as out. Add trellis to railings and hanging baskets and troughs to walls. Obelisks or wigwams inserted into pots will also increase growing height.
Find room for wildlife
Even a compact balcony can accommodate a variety of habitats. Pack twigs and straw into a spare pot for beneficial predators. Hang bird boxes and feeders from railings or secure bee and bug hotels to external walls to let the wildlife explore.
Plants need to work hard on a balcony garden. Here's our favourite multi-taskers...
Three easy balcony crops
Salads. Quick crops such as rocket, spinach and lettuce are easy to grow in containers and are tolerant of shade. Choose colourful varieties for added wow-factor or plant under shrubs to maximise space.

Tomatoes. These can be grown up railings and walls or tumbling out of hanging baskets. Plant a base layer of marigolds for colour and to keep aphids away.
Climbers. Climbing plants act like high-rise hedges, slowing down wind speed and screening you and your containers from sun and pollution. Try a jasmine or honeysuckle for heavenly scent, or clematis for colourful blooms.

Balcony garden checklist
There are a few key components that will make your sky-scraping garden a success...

Lightweight pots. While terracotta pots are a preference in a normal garden, they're too heavy for a balcony. Plastic or resin planters made from recycled materials are best, especially if they are sourced second-hand and given a new lease of life.
Good quality compost. Your balcony garden will rely entirely on you for sustenance. Make sure you use quality peat-free compost, perhaps one with added loam, to provide a strong start for your plants. Straw added to the compost mix can help reduce weight and give roots a rich, airy layer to penetrate. Add a compact composter or a wormery (if your balcony stays at around 15 degrees) – and you can make your own!
Irrigation. Balcony pots will likely need watering all year. Consider adding an automatic drip irrigation system or insert self-watering spikes and cut off bottles into the compost. Some containers come with built-in reservoirs.
Plant food. Container compost will leach nutrients after six weeks so supplement with organic comfrey pellets, or a diluted seaweed foliar feed. Add a thin dressing of compost or organic matter in the autumn.