A year at the Heritage Seed Library
There's never a dull moment at the Heritage Seed Library for our team. If you've ever wanted to know what happens to produce the little brown seed packets so coveted by HSL members, read on for a behind-the-scenes look at our highlights through the year.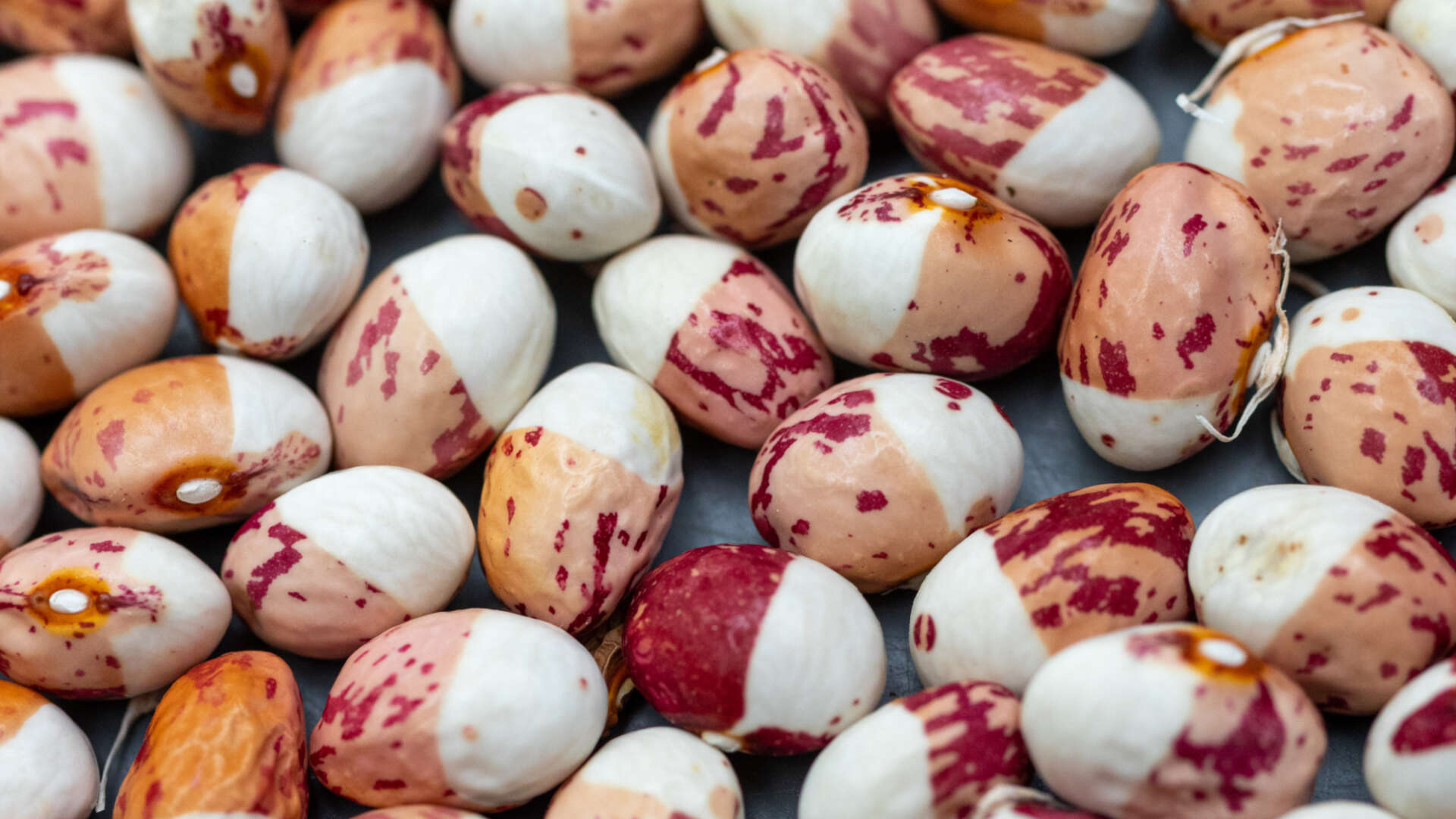 January
January is a time to plan our growing year. What we grow is determined by the need to replenish library samples of our heritage varieties. The process of allocating space takes several things into account: crop rotation; population size for genetically healthy seed; growing space and height; first or second year biennials; and isolation for cross-pollinators.

It's an exciting time as we choose which "pre-accessions" to trial – these are potential new additions to the collection donated to us. We tend to receive around a dozen each year. At the same time we are right in the middle of dispatching thousands of seed orders from last year's list to our members!
February
This is time for maintenance and repairs: turning and spreading compost, cleaning and repairing polytunnels, sharpening tools, washing pots and ordering new materials. At last sowing starts in our glasshouse – onions and lettuces are first. We prepare a plan of characterisation: varieties needing phenotype descriptions or new photos.

The year's "Orphan" list is sent to Seed Guardians to choose which varieties they would like to grow to bulk up stock, and we work with isolated and contract growers and display gardens such as Belmond Le Manoir Aux Quat'Saisons to agree what heritage varieties they will grow. None of our precious seed goes to waste and we dispatch parcels of older seed to seed swaps across the country.
March
Our main sowing and glasshouse propagation starts – labels are really important when we sow over 100 varieties! Biennials, such as carrots and beetroot, have been carefully overwintered in soil crates and can now be re-planted for seed production. Orders from last year's seed list come to an end so we review what's been popular, do some number crunching and predict next year's demand.
April
Annual stocktake time! Every batch in our cold store is checked and logged so we have multiple years' quantities and shelf lives. The glasshouse and coldframes are busy and planting out starts, along with constructing climbing frames and isolation cages for our trickier crops. Comfrey tea produced last year is ready to feed beds and the irrigation system gets a test drive to spot any leaks.
May
A huge task as thousands of plants are planted out in polytunnels and outside. We organically manage pests and diseases and have been inspecting at every stage, introducing predators for problems like red spider mite which can be an issue in humid polytunnels.

We are already shortlisting varieties for the next seed list, checking everything from suitable photographs and descriptions to seed quality and germination rates. We also keep a close eye on signs of flowering in brassicas, carrots and alliums in order to time our trip to buy our extremely helpful maggots. They will turn into pollinating flies over the following weeks.
June
Pretty much everything is in the ground. Of course, that's when the weeds really get going too. Here a weed is definitely "a plant in the wrong place" as many are self-seeded veg from last year.

We start taking measurements and photos of each growing stage so we have a detailed description of every variety. Often our first peas are ready to harvest and we give our wind-pollinated varieties a gentle shake to get things moving.
July
Growing "true to type" relies on preventing cross-pollination and removing any undesirable specimens. We are vigilant about keeping our mesh doors closed to stray bees and hand pollinate broad beans, runner beans and cucurbits. Open-pollinated plants will always be genetically variable so we continue to "rogue out" atypical plants. When helpful flies have hatched we keep our mouths shut in the polytunnels!
August
The seed cleaning and drying rooms get busier as harvests arrive. Peas in June and July are usually swiftly followed by broad beans and a succession of vegetables all the way through to our final harvest, typically squash, by November. Our trusty sieves, spoons and jam jars start work. For old and new varieties it can be a moment of truth as we inspect the seed for the first time.
September
Harvesting has peaked, particularly for tomatoes, and we weigh and count fruit for yield data. By the end of the year we know how many tomatoes and seeds each plant has produced! At least 3,000 tomatoes are hand processed using a simple fermentation method. The rest of the fruit isn't wasted – there's tomato soup for staff and volunteers!

It is final decision time for our seed list shortlist, and time to turn the compost.
October
Catalogue layout and content is prepared and seed packing begins. Every packet is hand packed, stamped and seed batches logged – each one is traceable to where, when and who grew it.

Seed will either be counted, one bean at a time (look out for packets with the extra bean!) or scooped using ingenious home-made measures. Seed Guardians return hundreds of parcels of home-grown seed, often in all manner of resourceful containers – toothpaste boxes, tins and shoeboxes! Each is checked, weighed and logged.
November
The harvest draws to a close and totals are weighed and recorded. Core library seed samples are extracted and foil sealed – the "insurance policy" for conserving that variety.

We deliver back-up seed samples to HRI Wellesbourne, Warwick University. These are stored at -18°C and serve as an additional insurance against loss. Packeting is at a frenzy – ready for member ordering to commence…
December
Seed lists land on doormats and inboxes and the orders start arriving! In the first two weeks over half of the three thousand or so orders will come through and we aim to process, pick and post within a few days. Outside our growing spaces are cleared and prepared to start the whole happy process over again!

You can help us to guarantee the survival of these fantastic heritage vegetable varieties for future generations by joining Garden Organic & the Heritage Seed Library for less than £5 a month!

As part of your membership benefits you'll enjoy seeds to grow yourself from an exclusive list of over 150 varieties of seeds, plus access to a host of information and resources to assist you with your organic growing.
It's quick and simple to join online or by calling our membership team on 024 7630 8210.