Celebrate your homegrown produce this Diwali
Our Heritage Seed Library horticulturalist Anish Mistry shares two recipes that use up all your lovely homegrown vegetables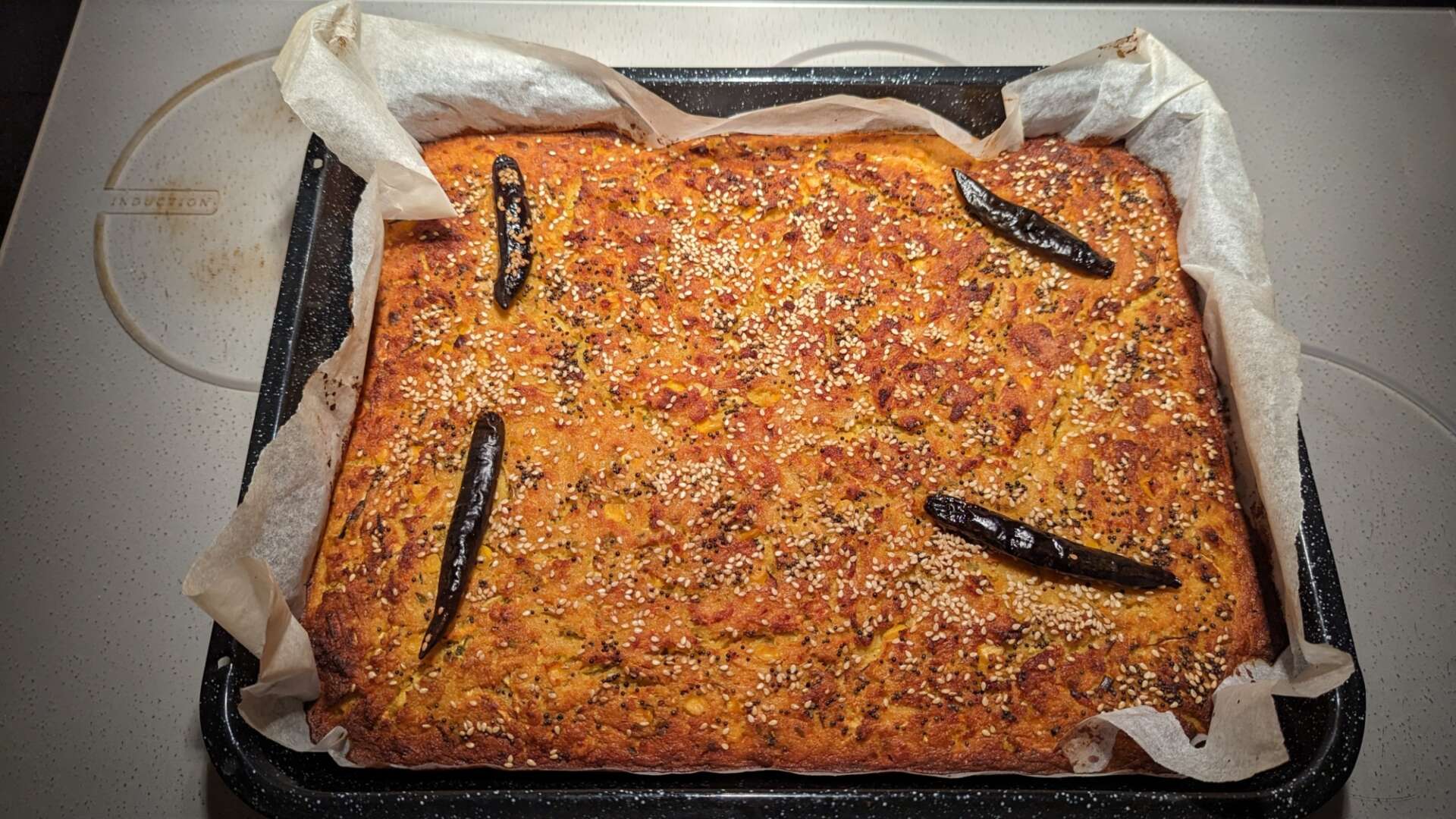 These two dishes are some of my favourites and, as a novice cook, I can vouch for the fact they're easy to make. I've grown up with my mum making handvo on a regular basis and my grandma makes Gajar ka halwa on special occasions. They both use lots of vegetables. I grow some of my own vegetables at home in pots and in my grandparents' garden. I hope you enjoy these recipes – have a happy Diwali!
Handvo (on-dh-wa)
Handvo is a spicy lentil cake that is eaten in the Gujarati community throughout the year either as a snack with chai, as a side dish or by itself with some chutney or ketchup. It's a wholesome dish that includes lots of spices and vegetables with lots of versatility in the choice of grated vegetables that can be used.
Variations
There are two ways of making Handvo. An instant way where you use semolina to make the dough, or a longer version where you use Handvo flour mixed with oil, yoghurt and warm water and let it soak. You can get handvo flour and Asafoetida (hing) from Indian food shops.
Serves eight people

Prep time: 30 minutes
Cook time: 30-35 minutes
Ingredients
Dough - long method
1kg handvo flour
450g of plain yoghurt
1litre of warm water
4tbsp of vegetable oil
Dough - quick method
1kg semolina
500ml plain yoghurt
1litre warm water
4tbsp vegetable oil
Vegetables
3 medium carrots, peeled and grated
2 courgettes, grated
2 medium potatoes, peeled and grated
1 tin of sweetcorn, or your own frozen corn
2tsp chopped green chillies
2tsp ginger paste
2tsp garlic paste
2tsp turmeric powder
1tsp chilli powder
2tsp baking soda
Salt to taste
Tempering
2tbsp vegetable oil
1tsp mustard seeds
2tspsesame seeds
½tsp of asafoetida (hing)
4 dried red chilli
Pro Tips
When making the dough, slowly pour in the water a little at a time. You're looking for a runny/gloopy but not watery mixture.
Before you add the grated vegetables to the flour mixture, squeeze out as much liquid as you can from the vegetables.
Method
In a mixing bowl, mix the handvo flour, oil, yoghurt and warm water. Cover the bowl with clingfilm and leave in a warm place for at least four hours, or ideally overnight.
After it's soaked, stir it into a runny batter consistency.
Preheat a fan oven to 180°C/350F/Gas mark 4.
Next, add the vegetables, spices (except the dried chillis and mustard seeds) and salt to the flour mixture. Give it a good mix.
For tempering, heat the oil in a small saucepan and, once heated, add the dried chillis. When they starts to sizzle, add the mustard seeds and once they start to crack/splutter turn the heat off. Add the sesame seeds, asafoetida (hing) and stir.
Take a medium to deep baking tray and grease with a thin layer of oil, then line it with greaseproof paper.
Add the baking soda and mix well. (Note - this should be done just before you are ready to pour the batter into the baking tray.)
Pour your handvo batter into a baking tray.
Add the tempering blend into the handvo batter and mix well.
Level it out and then top with the dried chillies from the tempering and sprinkle some sesame seeds on top.
Place in the oven for 30 minutes. After, 30 minutes check to see if it's cooked by poking it with a knife. You should be able to pull it out clean.
Once cooked, grill the top for five to 10 minutes to get a nice brown crunchy top layer.
Let it cool for 10 minutes and cut into sizeable pieces to enjoy.
Instant method
In a mixing bowl, mix the semolina, oil, yoghurt and warm water and stir into a runny batter consistency. Continue on from Step 3.
Gajar ka halwa
Gajar ka halwa is a sweet Indian dessert made from carrots, spices and condensed milk. Perfect for satisfying your sweet tooth it can be eaten warm or cold and goes perfectly with a dollop of ice-cream or fresh cream.
It can also be made ahead of time and be refrigerated for up to a week and eaten cold, or frozen and reheated.
Serves six people
Prep time: 10 minutes
Cook time 60 minutes
Ingredients
1kg carrots, peeled and grated
1pt milk
400ml condensed milk
1tbsp ghee (clarified butter)
Optional: add sugar to taste if you want it sweeter.
¾tsp cardamom powder
70g crushed or grated almonds or pistachios
70g raisins
Method
Peel and grate the carrots, this can also be done in a food processor to save time with lots of carrots.
On a medium heat, put the ghee in a non-stick pan, add the carrots and sauté for three to five minutes.
Once sautéed, add the milk mix and cook until the liquid evaporates.
Next, add the condensed milk and cook until the liquid evaporates (add the sugar at this stage if you want it sweeter).
Once it's evaporated place the mixture into a bowl.
Add in the nuts and raisins and mix well to serve.