A silver award at Gardeners' World
Delighted to win a silver award for our Backyard Biodiversity Garden at the Gardeners' World Live Birmingham.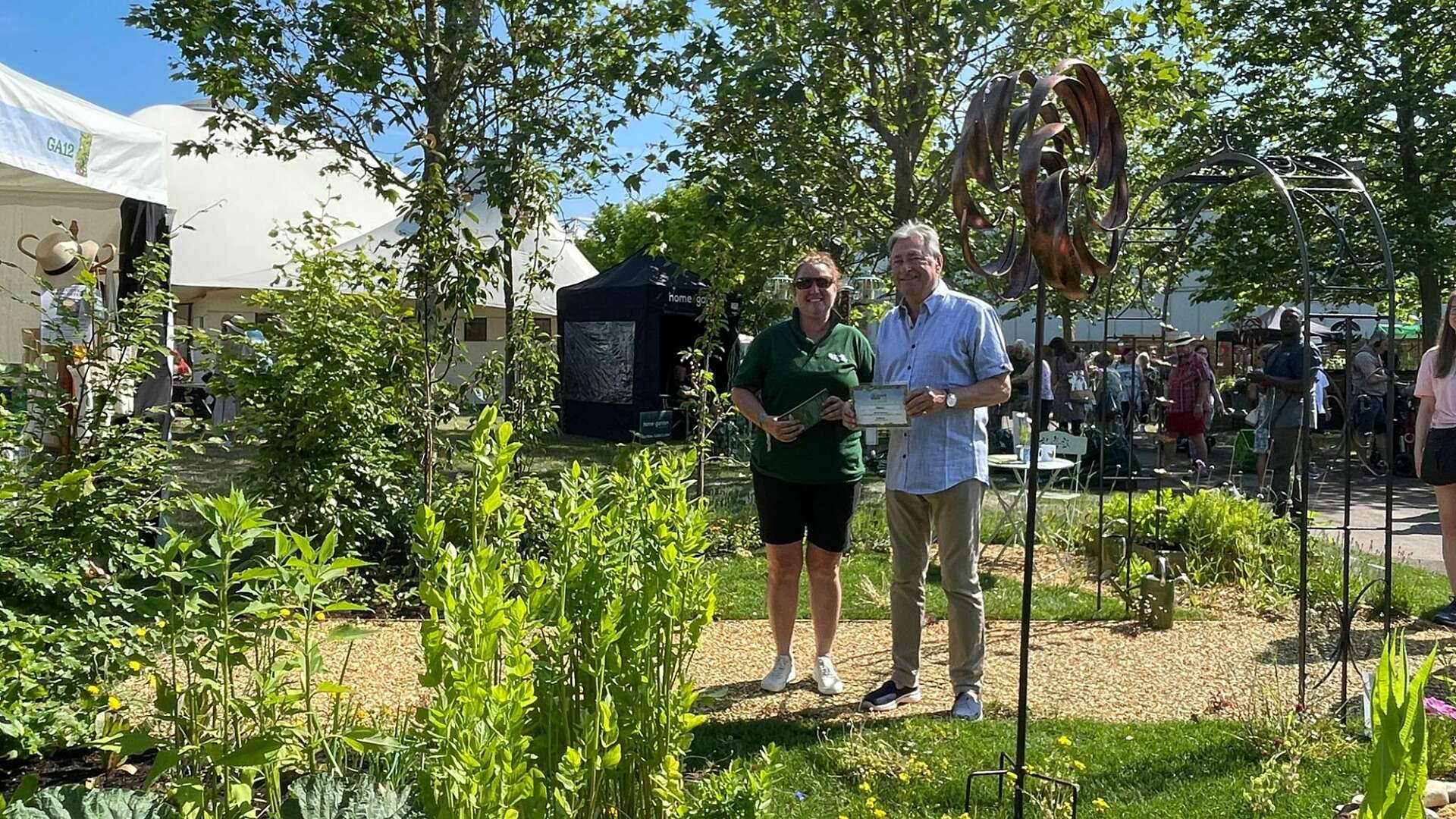 We're excited to be sharing inspiring ideas at our sustainable show garden at Gardeners' World Live at Birmingham NEC this week, to help gardeners make their growing spaces more resilient to climate change.

Our silver award was presented by gardener and former Gardeners' World presenter Alan Titchmarsh MBE.
There's plenty of eco hacks to takeaway from our garden, designed by our Head Gardener Emma O'Neill and built by our amazing gardens team - so come and visit us at Stand GA12 until Sunday 18th June.
Backyard Biodiversity take-outs
Gardeners can pick up tips on using permeable paths and gravel gardens to absorb rainwater more slowly, and learn more about drought-tolerant plants that can better withstand higher temperatures. Visitors have been very engaged with our mini 'living roof' of sempervivums and sedums - a perfect way to hide a wheelie bin, or to green up a shed roof.
We've incorporated 'weeds' to attract more pollinators. They're slotted in among the flowers and edibles to create corridors of pollen for beneficial insects. And we've included clover, daises and other high-pollen plants into our lawn, to show how a diverse range of plants is better than a monoculture of grass.

There's been a lot of interest in our perennial vegetable bed, with its low-maintenance, long-lasting plants that allow gardeners to buy less in and extend the harvest. Plants include tasty tubers such as skirret and yacon, and unusual Egyptian walking onions, with their tiny clusters of bulbils that replant themselves each year.

When planning the garden it was incredibly important that we grew as much as we could from seed, just a few miles down the road, and use sustainable and recycled materials. All plants and structures will be reused and recycled in our organic demonstration garden at Ryton.
We would like to extend our thanks to the following companies who have supported us in the creation of the garden: The Organic Gardening Catalogue, Beth Chatto's Plants and Gardens, EcoSure, HOTBIN Composting, GAP Garden Products, Smith's Concrete and Waterside Nursery.