Recyclable plant pots - are they the answer?
Plastic pollution has been a high-profile issue in 2018, and the ubiquitous black plant pot is one of the worst offenders. Many garden centres are now planning to replace them with plastic that can be recycled.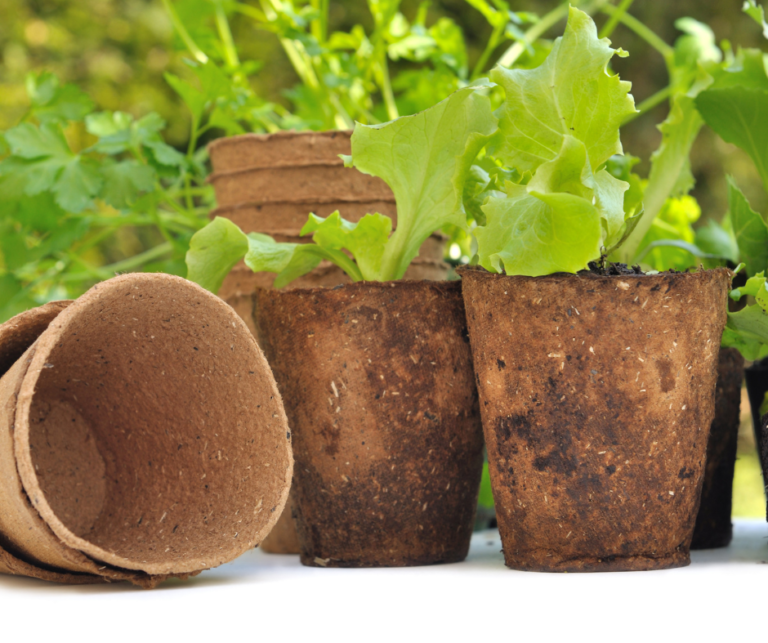 They are planning to offer 'taupe' coloured pots from next year. This new coloured plastic will be recyclable because it does not contain carbon pigment, which infrared recycling machines cannot identify. The new colour will also indicate that the pot is made partly from recycled polypropylene. This will allow most of us to add surplus pots to kerbside recycling (check with your local authority.)

David Chilvers, who chaired a Horticultural Trade Association growers' meeting, said: "With so much discussion about plastics in the media it is key that the garden industry takes a lead and moves towards a sustainable solution. "
But is this sustainable? Many would like to see the use of plastic - recycled or not - completely phased out. Edibleculture, a nursery in Kent, plans to cease supplying plastic pots completely from 2019. They will sell plants in fertiliser-impregnated paper. Many of their plants come from the wholesaler in plastic pots, so at point of sale, the plant is transferred from the plastic pot it was growing in, to a biodegradable container, which customers can plant straight into the ground. The plastic pot is then reused by the nursery. Compost will be sold in bags for life, removing the need for all those prepackaged plastic bags, and fertilisers in refillable containers.
Garden Organic's guidelines on the use of plastics, found in our Principles of Organic Growing, includes the following:
In principle, organic growing involves using non-renewable resources, such as plastic, as little as possible. And its use should have minimal impact on the environment. However, any gardener will encounter plastic at some stage – from pots to polytunnel, wheelbarrows and watering cans.
The longevity of plastic as a medium can be an advantage (plastic tools, such as wheelbarrows, require minimal replacement and maximum reuse) and there are arguments for using recycled plastics as they keep the plastic out of landfill where they rarely decompose.
Ideally, you should try to reduce the amount you use, always reuse it if possible, and check that it can be recycled.
We then advise:
BEST ORGANIC PRACTICE: No use of plastic.
ALSO ACCEPTABLE: Plastic-like material that is copletely biodegradable, and has been produced from plant substances.
ACCEPTABLE, FOR OCCASIONAL USE:
Reuse of plastic containers for growing in, especially those made from recycled plastic, this includes plant pots.
Food and drink containers, sacks and crates can all be used as containers so long as they are certified as 'safe' ie do not leach chemicals.
Use of plastic sheets for mulch, provided their use is not permanent.
Use of plastic netting or mesh as a barrier for pests.
NOT ACCEPTABLE: Styrene, used in meat and bakery trays, styrofoam containers and polystyrene chips. This is a potential carcinogen.