Which vegetables grew best in 2022?
In December we asked you to fill in a survey about your veg gardens so we could find out which veg did well and which didn't during 2022. And the results are in!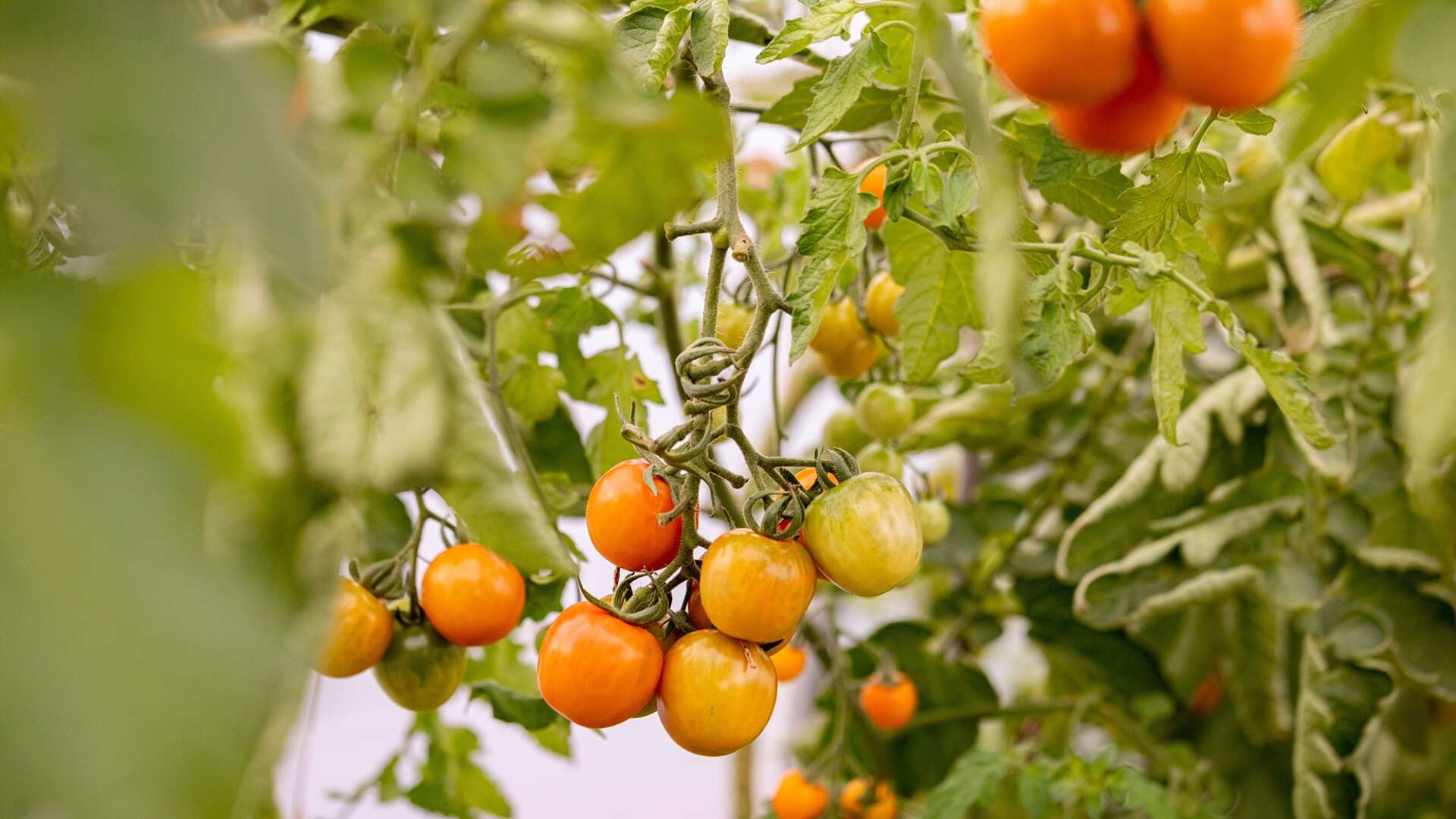 Drought tolerant tomatoes and climate resilient amaranth were the top performing crops of 2022 in a survey of your veg gardens – with runner beans struggling with weather extremes.
We had more than 300 responses to our survey about how your vegetable crops performed last year. Our findings showed veg such as tomatoes, amaranth and potatoes did well but key staples - particularly runner beans, carrots and onions - didn't do so well.
The aim of our survey was to provide a picture of the vegetable growing season, which will be repeated and used to examine trends.
Weather patterns for 2022
Spring was generally warmer than average last year but clear skies and cold nights in March gave rise to some late frosts that damaged growth. It was also drier than average in most areas of the UK with some places receiving well below average rainfall. March and April were sunny, but May was dull giving a slow start to the growing season.
Summer was warmer and sunnier than average with some areas, such as the east of England, experiencing 2oC above average. Conditions were very dry in June and July with the UK only receiving 56 per cent of the average rainfall in July. This was a challenge for many growers to keep up with the watering. August was also dry although there were some localised thunderstorms that provided respite, but also flooding, in some areas.
Autumn was the third warmest since records began in 1884. This, combined with above-average rainfall allowed some crops to recover from the very dry summer, and provide harvests much later than normal.
Impact on your veg garden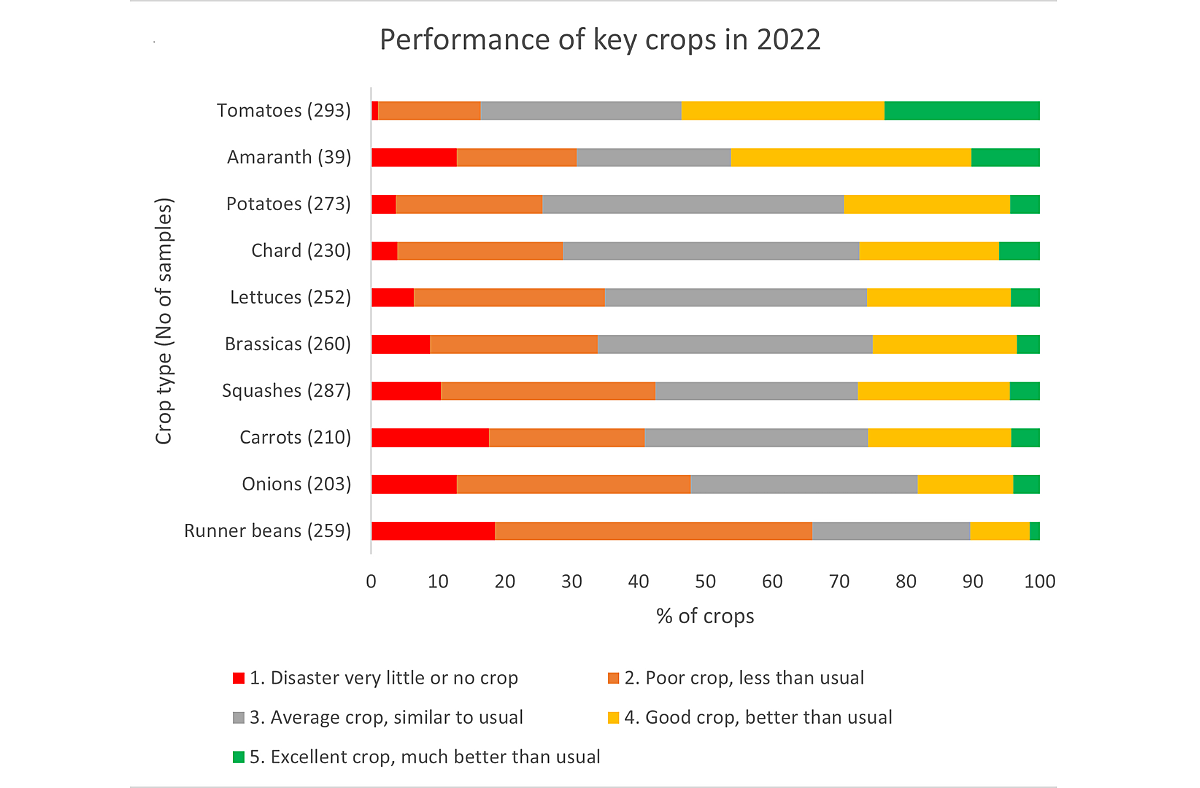 So what did this mean for your crops? The chart above shows crops ranked in order of performance. Those with large amounts of red and orange performed poorly, those with larger amounts of yellow and green performed well.
The obvious winner was tomatoes. Those that were able to provide enough water achieved good yields of tomatoes that continued into late autumn. Amaranth also benefited from the high levels of sunshine and produced a high proportion of good crops.
The clear loser was runner beans, usually a reliable crop. Throughout the hot dry period in June and July, they failed to set pods even when they were watered, producing very small yields. Other traditional crops such as carrots also produced much smaller yields than average, due to lack of water.
Pests such as cabbage aphids and flea beetle were around in much greater numbers during the hot summer in the south, causing extensive spoilage and whitefly continued to be a problem into the mild autumn months.
Many crops such as chard, lettuces and summer brassicas flowered early ending so that harvesting was rapidly curtailed. Quality of potatoes was also affected, with the hot dry weather leading to very floury potatoes that disintegrated on cooking.
Impact on individual crops
Brassicas
Many brassicas performed poorly during the summer, but winter brassicas recovered well after the rain in September. Cabbage aphids were around in large numbers, and flea beetle was much more prevalent than normal, leading to large amounts of spoilage during the summer. Additionally there were physiological problems such as summer brassicas flowering early and cabbages splitting. Whitefly remained on brassicas during the mild autumn. One grower tried growing under shade, which worked successfully and is an approach used in many hotter countries.
Runner beans
During the hot dry period of July and August, flowers were not pollinated and so did not set pod resulting in very little yield. Some started to produce later when rains came later in August and September, leading to some later harvests.
Chard
Many crops repeatedly ran to seed in the summer, curtailing leaf production. However, many later crops produced well during the mild autumn.
Amaranth
Amaranth was much less commonly grown than other crops, though it is a staple among Caribbean and Asian communities in the UK. Many people's crops benefited from the high levels of sunshine, as long as they were able to water adequately - producing better yields than average.
Squashes
The performance of squashes was on average poor. Many people could not supply enough water, so they grew poorly only reaching a small size. However, in a few areas, people achieved bumper yields. Courgettes were similarly variable. Under the dry conditions, powdery mildew arrived earlier than normal, curtailing production.
Lettuces
Early spring sowings performed reasonably, but later spring and summer sowings flowered very quickly producing reduced yields. Some people experienced problems with germination under the hot conditions.
Tomatoes
Tomato yields generally benefited from the high levels of sunshine, and with the mild autumn, some people were still harvesting into November. Some outdoor crops produced a high level of split fruits when the heavy rains came after a prolonged dry period.
Potatoes
Most people commented that yields were small, with much smaller tubers than normal. The quality also suffered, with the dry conditions resulting in high dry matter so that even early salad varieties were disintegrating on cooking. Some also suffered from common scab due to the dry conditions. There was little mention of blight, which needs damp humid conditions to spread.
Carrots
Yields of carrots were generally below average, with the lack of water leading to delayed and reduced yields.
Onions
Yields of onions were also below average, with a lack of water resulting in a smaller crop.