December podcast out now!
The podcast team are looking back on 2022 in December's episode, chatting about their triumphs and trials – and what's on their Christmas wishlist.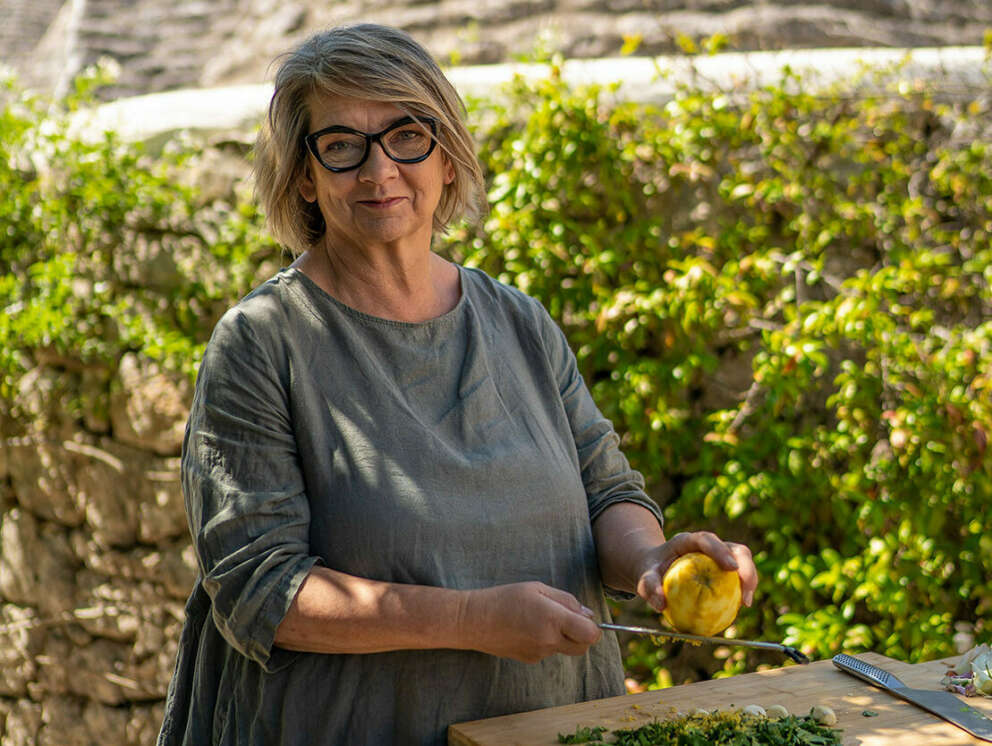 Preservation of produce, soil and seeds are some of the topics covered in this month's podcast. Chris Collins and Fiona Taylor share their experience of storing vegetables such as cabbage and beans over winter, and using up fallen apples.
And our lead horticulturalist for the Heritage Seed Library, Marcin Salnikow, helps answer your postbag questions. This month we take a look at how and when to prune a wildlife-friendly native hedge and share advice on plants for pond edges.
Sophie's sensational vegetables
Fiona also meets chef and passionate organic advocate Sophie Grigson. Having written more than 20 cookbooks, Sophie has always been a vegetable enthusiast and now she lives in Italy, she's discovering new and interesting varieties. This includes a tasty broccoli called Cimi di Rapa and 60 local varieties of cherry tomato. You can try out two of her delicious recipes below.
Subscribe to the podcast via Spotify, Apple Podcast and all the other main podcast providers. Alternatively, listen here
Sophie Grigson's Recipes
Orecchiette Alle Cime Di Rapa
One of the truly great pasta dishes, for its taste and simplicity and economy. If ever there was something that amounted to more than the sum of its parts, this is surely it. It has become one of my top, go-to dishes on a chilly day.
You need to start with a minor mountain of greens. Pasta and greens are cooked together for maximum taste, then seasoned with brisk chilli, garlic and anchovy. The partial collapse of the greens is an essential component of the dish, so don't fuss about over-cooking.
Cime di rapa or rapini (usually translated as turnip greens but not quite the same as the green leaves that come out of the top of a turnip) are a rarity outside of Italy, but they grow easily and happily in the UK.
Orecchiette alle Cime di Rapa is sometimes served with 'poor man's parmesan', in other words: crisp, golden fried breadcrumbs. Though grated cheese is considered a no-no in Italy, in the privacy of my kitchen I break the rule with a sprinkle of freshly grated Pecorino or Parmesan. Try it without first, to taste it as it should be, then add as you will.
Serves 4
400g fresh orecchiette, or 350g dried orecchiette
800g cime di rapa, or purple sprouting broccoli
3 cloves garlic, thinly sliced
2 fresh or dried red chillis, roughly chopped, seeds and all
6tbsp extra virgin olive oil
5 anchovies, chopped
Salt
Fresh orecchiette:
Put a large, well-salted pot of water on to boil. Rinse the cime di rapa thoroughly to get rid of inevitable grit (especially after heavy rainfall). Trim off the tougher thickest stalks and discard. Slash leaves and stems roughly into pieces 3-4cms long. Precision is not required. Toss them all into the boiling water, give them a stir, then simmer for around five minutes. Add the orecchiette, stir again, and cook for a final 2-3 minutes until the pasta is al dente.
As soon as the orecchiette are in the pan, put the oil, garlic and chillies and anchovy into a frying pan. Heat up and fry until the garlic is hinting at brown. Do not let the garlic burn. By now the pasta and greens will be cooked. Scoop out a cup or ladleful of the pasta water and reserve. Drain swiftly and then tip into the frying pan. Toss with the oil, chillies, garlic and anchovy and a slurp or two of pasta water until all are mixed and hot. Eat at once.
Dried Orecchiette:
The method is pretty much the same as above, except for timings. So, once your water is boiling add the orecchiette and the cime di rapa together. Start heating the oil, chilli and garlic a couple of minutes before the orecchiette and greens are ready, and finish as for fresh orecchiette.
Chocolate Olive Oil Mousse
Incredibly rich and incredibly gorgeous. That's probably all I need say except that even the locals think it sounds weird. Thankfully all misapprehension dissolves once tasted.
Serves 4
100g dark chocolate, finely chopped
2 egg yolks
80g light muscovado sugar
a pinch of salt
4tbsp extra virgin olive oil
3 egg whites
To serve:
A little extra olive oil
Sea salt flakes
Melt the chocolate, then leave to cool for 5 minutes or so. Whisk the egg yolks with the muscovado sugar, until the sugar has dissolved. Whisk in the olive oil a little at a time to create a gorgeous voluptuous thick gloop. Whisk the melted chocolate, a slurp or two at a time, into the gloop. You should end up with an even more voluptuous, thick, glossy, chocolatey gloop - but don't panic if it shows ominous signs of graining. Just carry on and all will be fine.
Whisk the egg whites until they form soft peaks. Fold into the chocolate mixture. Divide between four small bowls, or espresso cups, or ramekins and chill for a few hours.
Just before serving, drip a few drops of fresh olive oil over each mousse, and sprinkle with a few flakes of salt.