Garden Organic Wins Gold!
We're delighted to announce that we won a gold medal for our 'Small Spaces, Big Ideas Garden' at the Gardeners' World Live show in Birmingham this month.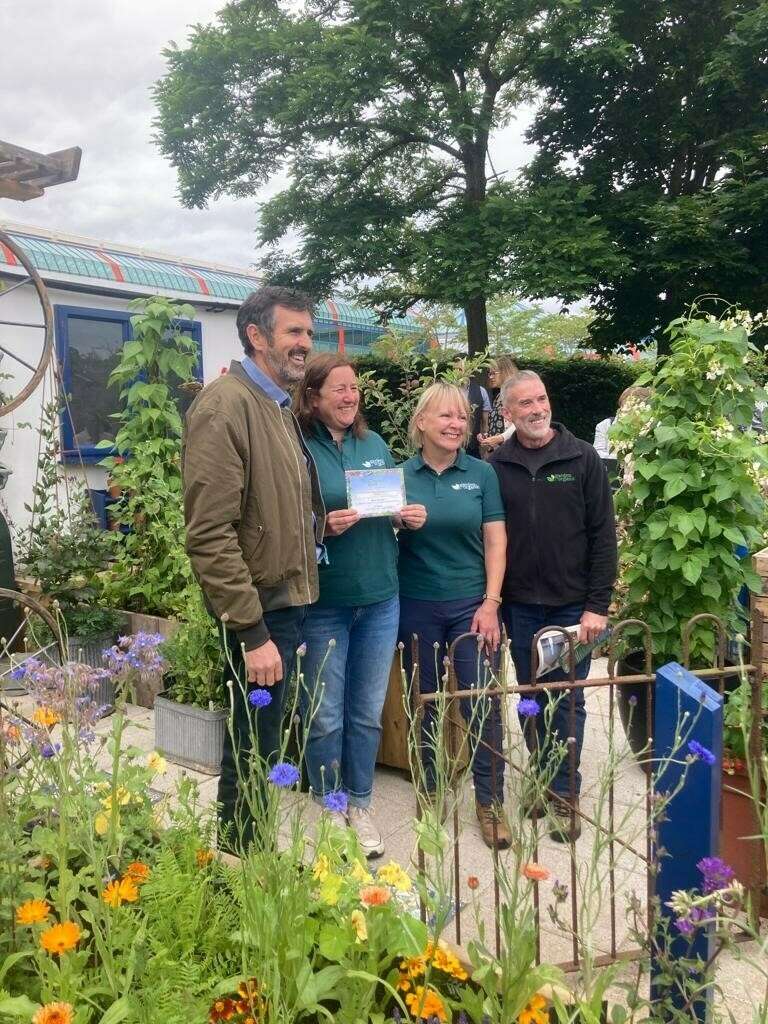 Our tiny garden demonstrated that productive, beautiful and sustainable growing is achievable for all homes – no matter how small their garden, yard or balcony.
We did indeed pack a lot in. The 5×5m space consisted of clever container ideas, using vertical planting, raised beds and shelving. We also incorporated a small pond, bog garden, compost bin, a hedgehog highway and water-saving ideas – all around a beautiful mosaic path created by our creative volunteers. Finally, we added a mini greenhouse for tender seedlings, too.
Visitors to the garden loved the simple, sustainable ideas they could replicate at home, like the pallet compost bin, complete with a removable divide and comfrey feed maker, and the recycled plastic strawberry planters.
The small plot garden was designed and built by our Gardens Team and volunteers, led by Head Gardener, Emma O'Neill alongside the charity's Head of Organic Horticulture and former Blue Peter gardener, Chris Collins. Construction of the raised beds and features was carried out by Facilities Co-ordinator, Baz Sedgewick.
The inspiration for the garden came from the regular laments they hear from would-be gardeners who 'wish' they could grow their own produce or invite more wildlife into their spaces but mistakenly believe they cannot due to lack of space or only having access to a fully paved yard or balcony.
"We have had great fun designing it and it's exciting that we have also created a thriving habitat for biodiversity, attracting everything from birds and bees, to hoverflies and amphibians," said Emma, who also recently led the redesign and creation of our demonstration garden at Ryton Gardens.
When planning the garden it was incredibly important that we grew as much as we could from seed, just a few miles down the road, and everything has now been returned to be put to good use in our own garden. Raising plants from seed, harvesting rainwater, making your own compost and feed, and reusing unwanted items are simple but essential parts of creating and nurturing a sustainable organic garden.
Emma said: "Chris and I were thrilled to receive a Gold Medal, it's a great endorsement of the whole team's hard work and commitment to creating a garden that anyone can replicate in their own space. Plus we were really chuffed that Gardeners World Live presenter Adam Frost chose our compost bin to feature on the TV show!
Overall, we are hoping that the ideas demonstrated will inspire all growers to look for more ways to directly support biodiversity.
We promise, even those with the tiniest of spaces can recreate these projects."
For more information on how to recreate the top five features in the garden click here.
We would like to extend our grateful thanks to Viridian Nutrition and The Organic Gardening Catalogue for supporting us with this garden, and to Teasels Landscapes and Golden Gardens for assisting with construction work.