Heritage Seed Library features on BBC Gardeners World
Thursday's episode of BBC Gardeners World included a feature on our Seed Guardian Adam Alexander and his role preserving heritage veg through the Heritage Seed Library.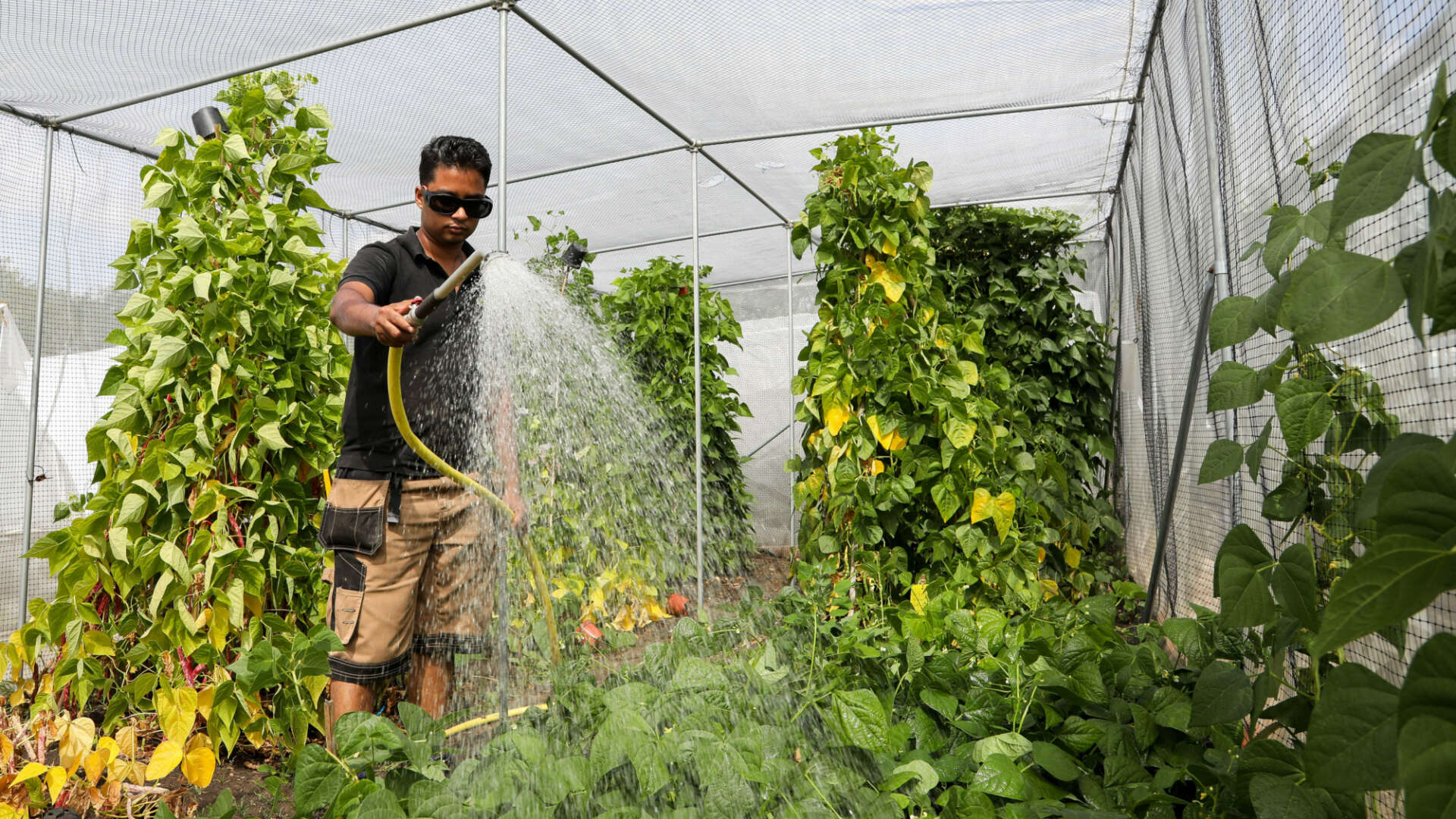 Viewers were able to share in Adam's passion of saving seeds, and got a glimpse of his productive growing area.
Adam is one of over 100 volunteer Seed Guardians who play a vital role within the Heritage Seed Library. Seed Guardians take specific varieties from the HSL collection (known as orphan seeds) and grow them within their own gardens and allotments with the aim of returning large quantities of seed back to the HSL seed store. At our base at Ryton Organic Gardens, the Heritage Seed Library keeps a stock of rare heirloom and heritage varieties to protect them from being lost forever, and also makes a selection available to HSL members each year through an annual seed list.
Watch Adam on Gardeners World here.
More information, including how to join Garden Organic and the Heritage Seed Library, can be found here.
The following varieties were featured on the show:
Robinson pea: Our donor had grown this variety on his farm in Melton Mowbray, Leicestershire, since the 1950s, however, he was originally given the seeds by a Mr Robinson, who had acquired them in Scotland. The vigorous plants (>2m) produce long, slim, slightly curved pods over a long season. Extraordinarily sweet, retaining their flavour even when frozen. Seed Guardian Adam Alexander says, "The finest pea I grow.". Included within the 2019 seed list, sent to members in December 2018. (picture credit Jo Fox)
Mescher lettuce: Austrian heirloom dating back to the 1700s. A compact lettuce its unusual crinkled leaves have a pretty red tinge to the margin, brightening up any salad bowl. These tightly packed leaves blanch the heart, giving it a very sweet flavour. Easy to grow, sweet to eat and known to be cold hardy. 77 days sow to harvest (approx.). Included within the 2019 seed list, sent to members in December 2018.
Stenner runner bean: The National Vegetable Society note that this is an exhibition variety, perfect for the show bench. Our donor, Mr Stenner, had much success with this bean in the 1970s and 80s, unbeaten both locally and nationally between 1976 and 1986. A very vigorous variety producing a generous crop of very long, straight pods, which remain stringless and tender. Excellent flavour and freeze well. Not included within the 2019 seed list.
Delaway cabbage: This is an Irish variety grown and saved for the past 60 years by a Mayo farmer. It is a dark green, spring cabbage, best sown in August and distinctly kale-like, but retains its cabbage flavour. Pick by the leaf and it will re-grow like spinach. Attractive, hardy and disease resistant, it is very tender picked young and is productive over a long period of time. Not included within the 2019 seed list.
Fowler dwarf french bean: An early, productive variety carried on the Oregon Trail by settlers travelling to Washington State in the 19th century. Their descendants passed seeds to Prof. Donald Fowler of Liberty University, Virginia, USA in the early 1980s, hence the name. Dark brown seeds produce compact (40-50cm) plants with white flowers, which fade to apricot with age, and crunchy, green, stringless, pencil pods. Included within the 2019 seed list, sent to members in December 2018.
Pasque radish: A robust winter storage radish with pink roots and crisp, white, medium to strong-flavoured flesh making it ideal grated for salads or coleslaw. Sow in July/August allowing a little more space than for summer radishes, as the roots are large. Can be left in the ground until required, making it a good winter standby for fresh salads.
Lister's Protection/Perfection tomato: Indeterminate, cordon tomato. Donated by JR McIvor, whose father and grandfather before him had grown it since around 1926 in their market garden at Carriden, Bo'ness, West Lothian to sell as both plants and fruit. Primarily a glasshouse variety. The round, medium-sized, richly-flavoured fruits are at their best, according to our donor, slightly under-ripe, when the thin, deep orange skins have a green blush at the stem-end. Not included within the 2019 seed list.
You can help us to guarantee the survival of these fantastic heritage vegetable varieties for future generations by joining Garden Organic & the Heritage Seed Library for less than £5 a month! Join here today.
As part of your membership benefits you'll enjoy seeds to grow yourself from an exclusive list of over 150 varieties of seeds, plus access to a host of information and resources to assist you with your organic growing.