London schools celebrate food growing success at City Hall
From strawberry jam to tomato ketchup, and the great British apple to winter salad bags - young entrepreneurs from 10 London schools shared their food growing skills with the public at City Hall on Thursday 13 October 2016.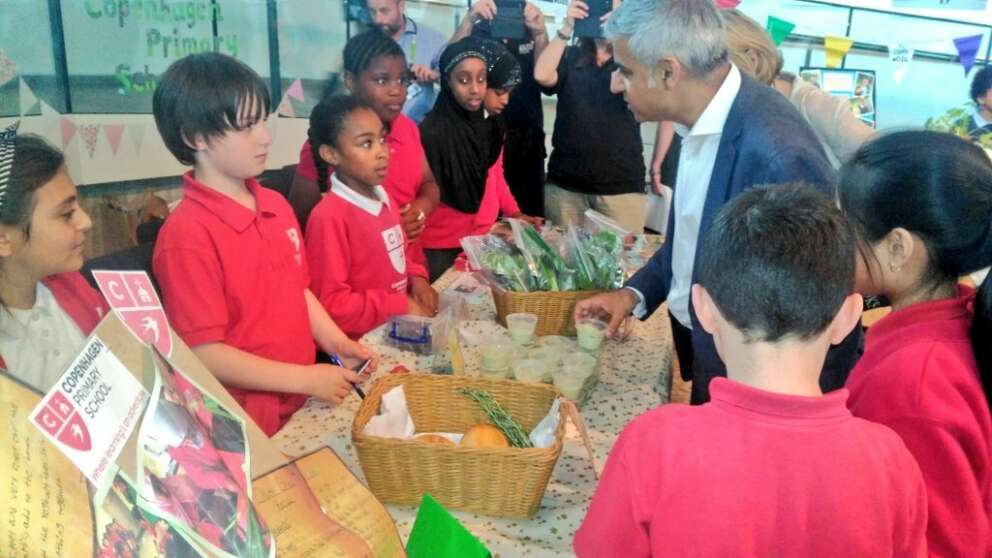 They represent the increasing number of London students experiencing the huge benefits of food growing since the launch of Food Growing Schools: London (FGSL) in 2013, led by Garden Organic.
On Thursday 13 October 2016 during a unique FGSL Celebration Event, students showcased their school-grown produce at the sixth FGSL Schools Marketplace, run in partnership with Capital Growth, and took to the stage in the prestigious London's Living Room. The event was opened by Joanne McCartney AM, Deputy Mayor for London, and Deputy Mayor for Education and Childcare, for the Greater London Authority. It included the launch of the FGSL Interim Report (October 2016), showing the wide ranging benefits of food growing. There was also FGSL's very own Junior Gardener's Question Time, chaired by former Blue Peter Gardener Chris Collins - with food growing questions answered by children from schools across London.
When he attended the last Schools Marketplace at City Hall, the Mayor of London, Sadiq Khan, said: " I'm really pleased to host the Schools Marketplace in City Hall. I want to help Londoners to have access to better food, and lead healthier lifestyles, so it's great to see these young people growing their own grub and developing entrepreneurial skills."
Students from schools in Croydon, Ealing, Greenwich, Haringey, Kensington and Chelsea, Lambeth, Lewisham, Richmond and Southwark took part, and won prizes as part of the Schools Marketplace Competition. Mark Dale-Emberton, Principle at Charlton Park Academy, Greenwich said: "Working with Food Growing Schools: London has helped us re-evaluate and re-energise the staff and students. We have looked afresh at our curriculum and how we can use the food that we grow to improve our meals, health and general wellbeing."
Since its launch in 2013, Food Growing Schools: London has seen an amazing 25 out of 33 London boroughs step up to promote food growing in schools. The Benefits of Food Growing are impressive and far reaching - showing a positive impact on children's physical and mental health, environment and education, and the local community and economy. Nearly 80% of schools engaged with FGSL have reported improved behaviour or attainment in students as a result of food growing, and one in four schools now use food growing as a teaching tool linked to curriculum activities. The FGSL report, containing the outcomes of an independent project evaluation by University of the West England, celebrates the successes of this innovative London-wide partnership, led by Garden Organic. The project is supported by the Mayor of London and the Big Lottery Fund.
James Campbell, Chief Executive, Garden Organic said:
I am deeply proud of what we have achieved so far — 87% of London schools are now growing food and considerably more pupils, parents, community members and businesses are involved.
Speakers at the celebration event included Chris Collins (former Blue Peter Gardener, Broadcaster and Head of Organic Horticulture at Garden Organic), James Campbell (CEO Garden Organic), Judy Orme (Professor of Public Health and Sustainability) and Mat Jones (Associate Professor of Public Health, University of West England).
Chris Collins, Broadcaster and Head of Organic Horticulture at Garden Organic said: "I'm lucky to be out and about meeting students all the time, and it's been amazing to see the difference Food Growing Schools: London is having in our London schools. The food growing support, resources and expertise the partnership provides is fantastic. Every school should take advantage and get involved!"
Whether you are already growing food in your school, you wish to get started, or you represent an organisation who can help, Food Growing Schools: London is open to all to London schools and organisations - Get Involved!.