The Organic Gardening Podcast
Garden Organic's popular podcast - The Organic Gardening Podcast - gives you monthly tips, inspiration and advice on how to grow, the organic way.
Hosted by former Blue Peter gardener Chris Collins and Garden Organic's Chief Executive Fiona Taylor, this popular monthly podcast has been a huge hit for gardeners and growers. Winner of the Gardening Media Guild 2020 Podcast of the Year, we've also received 5* reviews from around the world.
"A lovely new podcast focusing on everything to do with organic gardening. I love the chats between Sarah and Chris. Their passion for gardening really comes over. It's inspiring and cheerful. I learn something new every time I listen…"
It's easy to subscribe to The Organic Gardening Podcast via your Apple Podcasts, Spotify, or your usual podcast provider. Alternatively, you can listen here.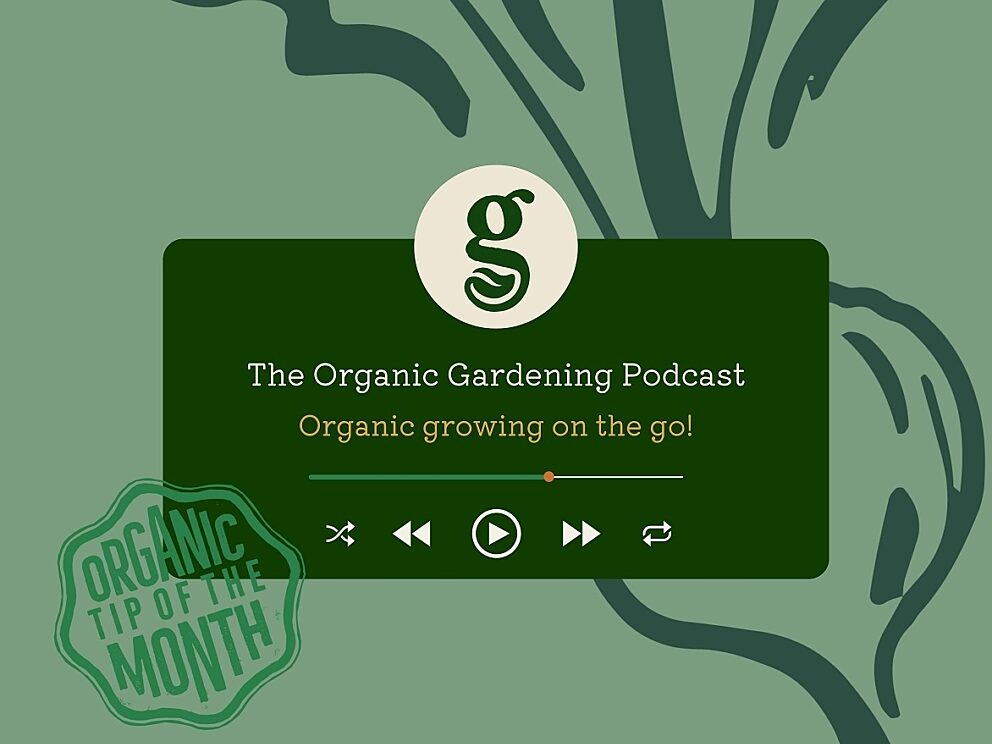 This month's podcast
Our guest this month is Anthony McCluskey from Butterfly Conservation, who shares some fascinating advice about how to support butterflies and caterpillars in your growing space.
We chat to Butterfly Conservation's urban butterfly project officer about the importance of attracting more butterflies and nighttime pollinators such as moths. And he provides some brilliant advice on things you can plant and do in your garden to help support pollinator populations.

Also in this episode, Chris, Emma and Fiona take time to reflect on their successes and failures this year, and Emma answers questions from the postbag including how to plant wildlife-friendly hedges, tackle leek moth and improve soil in greenhouses.

Previous episodes
Chris chats to Kirsty Wilson, herbaceous supervisor at the botanic gardens, to discover more about its 350-year-old living collection of plants.
In this month's podcast, we chat to Pam 'The Jam' Corbin about making seasonal jams and chutneys from homegrown produce

Fiona chats to environmentalist Jane Davidson – our new Vice President - about the impact of climate change on her life and her gardening.
Fiona finds out more about gardening in Scotland with our new Vice President Pam Whittle CBE.
Our Head Gardener Emma O'Neill gives us a backstage tour of her brilliant Backyard Biodiversity show garden at Gardeners' World Live
In this month's podcast, Chris Collins chats to the 'Banksy of Veg' - food and gardening activist Sara Venn – about the importance of community gardening.
Listen to our fascinating conversation with wildlife gardening pioneer Chris Baines as he discusses the "wildlife revolution" in our gardens.

In this Cut Flower Special of The Organic Gardening Podcast, Sarah Brown chats with Jo Wright from Flowers from the Farm and Debbie Scott, from East Lothian Flower Farm, as they share their experience of growing cut flowers organically.

Chris Collins pays a visit to Richard Wilford at Kew Gardens where he talks about tackling pests and reducing digging.
Spring is just around the corner and our Organic Gardening Podcast team are sharing their excitement at the gardening year ahead.

"Everyone deserves a meal" is one of the mottos of organic gardener Sarah Mead as she tackles garden pests – and is the thread running through January's podcast.

The podcast team are looking back on 2022 in December's episode, chatting about their triumphs and trials – and what's on their Christmas wishlist. Preservation of produce, soil and seeds are some of the topics covered.
We get up close to our soil in this month's Organic Gardening Podcast with a fascinating discussion about protecting soil over winter, warming up wormeries and creating veganic compost.
Chris and Fiona share their highlights for the start of autumn, and what will be keeping them busy this month. Chris chats to Stephanie Slater, Founder and CEO of charity School Food Matters, and the team help out with queries on splitting tomatoes, No Dig green manures and organic playing field maintenance.
September 2022
This month we discuss the tasks for September. Picking and storing, making a garden pond, dealing with tomato blight, and sowing green manures. Chris meets Adam Alexander, Garden Organic Trustee and plantsman. Adam travels the world gathering seed, and is an avid seed guardian for the Heritage Seed Library.

August 2022
This month we have a bumper harvest of podcasts – not just one, but two! They are both on the theme of organic food. We know it tastes better, especially if you grow it yourself, but is it better for you? Chris and Sarah discuss the evidence, and they are joined by chefs and scientists with recipes and ideas. We hear about the benefits of kiwi fruit, beetroot brownies, and how to tell your anti-oxidants from the free radicals.
July 2022
July is here and thoughts turn to when to water, what to pick and what to feed. Chris and Fiona discuss different summer growing conditions in Chris's London home compared to his training days in Scotland and think about essential preparation to keep everything ticking over while you go on holiday. Sarah talks to Garden Organic's Director of Horticultural Science, Dr. Bruce Pearce about organic growing in the wider sense.
June 2022
It's June – time to start seeing the fruits of our labour as all those seedlings get planted-out. Chris & Fiona chat about planting out, feeding and weeding. We learn all about slugs, plus answer questions on durable lawns, what to do with excessive grass clippings and planning to grow throughout autumn and winter.

May 2022
Marvellous May has arrived! Join new presenter, Garden Organic CEO Fiona Taylor, as she shares her love of May with Chris. Plus Chris takes a trip to the beautiful Mumbles on the Gower Peninsula to meet Gardeners World presenter and long-time Garden Organic member, Sue Kent, who shows him round her inspirational tiered organic garden.

April 2022
Outdoor sowing – is your soil warm enough? How to create a small salad growing area, and what to do if your tomato seedlings have failed. Our special guest is Ashley Edwards, Head Gardener at Horatio's Garden, which is attached to a hospital. Staff and patients find sanctuary there, where nature and gardening tasks help the healing process.

March 2022
Calling all bird lovers - we hear RSPB's Adrian Thomas explain why, and how, our garden birds sing. Gardening advice includes peat free growing, growing the organic way and what to do in the garden in March.
February 2022
Our helpful episode on successful seed sowing - why not get ahead of the game and start sowing indoors. Our special guest is Debs Goodenough, lifelong organic grower and former Head Gardener to the Prince of Wales. Gardening advice includes six steps to successful seed sowing, choosing the right potting mix and making your own seed potting mix.

January 2022
We kick off the new year with the secret of good soil. It's your essential guide to what makes your soil great. Welcome to the world of springtails, microbes and rich homemade compost! Gardening advice includes managing your soil, home compost making, no dig and mycorrhizal fungi.

Our thanks to Kevin MacLeod who wrote the music 'Open those Bright Eyes'.